"600 Camp," the street address of the historic John Minor Wisdom federal courthouse in New Orleans, is the home of the United States Court of Appeals for the Fifth Circuit.  This blog reviews and analyzes the Fifth Circuit's opinions about commercial litigation.

Its author is David Coale, a partner with the Dallas litigation firm of Lynn Pinker Cox & Hurst. His far-reaching litigation experience — including service on the winning trial team for the "largest civil judgment ever awarded by a Dallas state court judge," and the recent $140 million verdict in a far-West Texas oil and gas dispute — supports his consistent recognition as one of the top appellate practitioners in Texas.  A member of the American Law Institute, he is listed among the top 100 lawyers in Texas, and Best Lawyers in America for business litigation and appellate law.He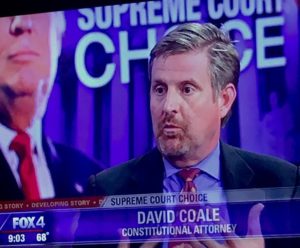 is a former Fifth Circuit clerk, board certified by the Texas Board of Legal Specialization in Civil Appellate Law, and past chair of the Appellate Section of the State Bar of Texas.  He serves on the commission that administers the Civil Appellate board certification in Texas.  His writings have been cited by the Second Circuit and the Supreme Courts of Vermont and Maryland.
All posts on this website reflect his personal views only, for the purpose of facilitating discussion about new cases, and do not purport to represent the views of his law firm or any client of the firm.  The blog draws inspiration from the work of the author's late Federal Courts and Supreme Court professor, Charles Alan Wright.