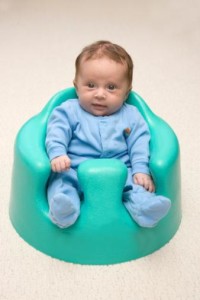 The unsuccessful plaintiffs in Blythe v. Bumbo International appealed the dismissal of their products liability claim about a Bumbo baby seat (right).  No. 14-40387 (July 27, 2015, unpublished).  The Fifth Circuit, affirmed, holding on two key evidentiary issues:
1. "The district court did not abuse its discretion in excluding the instructions on Bumbo's website [under Fed. R. Evid. 407.]  . . . [Plaintiffs' attempt to introduce the website instructions for the purpose of proving a design defect 'under the guise' of claiming they are admissible under the impeachment exception."

2.  Evidence about prior product recalls and related investigations was inadmissible, as subsequent remedial measures.  Examining the "subject matter, underlying purpose, and relevance" of the communications about safety harnesses, the Court noted that none involved the use of a Bumbo on an elevated surface as the plaintiffs had done, contrary to product warnings.