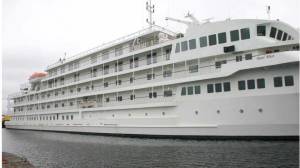 Pearl Seas sued Lloyd's Register North America ("LRNA") for inadequate performance in certifying a cruise ship (the "Pearl Mist," seen to the right.)  LRNA moved to dismiss on the grounds of forum non conveniens in favor of England, citing a forum selection clause contained in its rules.  The district court denied the motion without explanation and the Fifth Circuit reversed in a 2-1 panel opinion.  In re Lloyd's Register North America, Inc.. No. 14-20554 (Feb. 24, 2015), re-released after initial publication as a per curiam opinion on February 18.
The Court held: (1) as in the case of In re: Volkswagen, 545 F.3d 304 (5th Cir. 2008) (en banc), which involved the denial of a motion to transfer venue, mandamus is appropriate in the context of forum non conveniens; (2) it is an abuse of discretion to "grant or deny a[n FNC] motion without written or oral explanation" as to the relevant factors; and (3) the plaintiff was plainly bound by LRNA's rules under the doctrine of direct-benefit estoppel, since its claim "referenced duties that must be resolved by reference to the classification society's rules."  (citing Hellenic Inv. Fund v. Det Norkse Veritas, 464 F.3d 514 (5th Cir. 2006)).  (A panel reached a similar result in Vloeibare Pret Limited v. Lloyd's Register North America, Inc., No. 14-20538 (April 16, 2015, unpublished).
A dissent by Judge Elrod argued that the majority's analysis of direct-benefit estoppel expanded the Court's prior holdings in two areas — the degree to which the claim incorporated the relevant rules, and the timing of when the plaintiff learns of the rules.  The dissent also expressed concern that the substantive claim would not be recognized in England.
The point of division between the majority and dissent — whether an error is "clear" or not — resembles a similar split between the majority and dissent in the mandamus case of In re Radmax, 720 F.3d 285 (5th Cir. 2013), which granted the writ as to the erroneous denial of an "intra-district" motion to transfer venue.  Interestingly, Judge Higginson was the dissenter in Radmax, and also dissented from the denial of en banc review of that panel opinion, while here he forms part of the two-judge majority that grants mandamus relief. Judge Smith, who was in the majority of the Radmax panel opinion, is the author of this opinion after its initial release as per curiam.