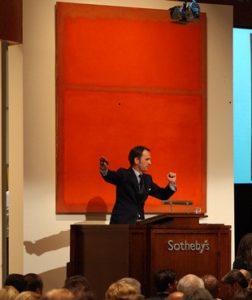 Hoffman v. L&M Arts arose from the sale of a 1961 Rothko painting (right) by Sotheby's in 2010; a previous owner alleged that this sale revealed facts about her own sale, in violation of a confidentiality provision in the sales contract that said: "All parties agree to make maximum efforts to keep all aspects of this transaction confidential indefinitely." The Fifth Circuit ruled for the defense in all respects, concluding that:
The original owner did not state a fraud claim against the relevant gallery, based on its alleged misrepresentation of its authority to act on behalf of an unnamed buyer, or its alleged misrepresentation about representing an entity or individual.  (Notably, the owner did not argue in the district court that equitable relief could still be appropriate without proof of damage), or its claim that the piece would "disappear" into its client's private collection.
The contract did not require secrecy about the fact of the sale, based on the plain meaning of the term "aspect," other provisions in the agreement, and the Texas policy against restraints on alienability.
The questions about damages associated with the alleged breach either reflected speculative bargains, incorrect damages measures, or a disgorgement theory that is not well-supported as a Texas contract remedy.
No. 15-10046 (Sept. 28, 2016).